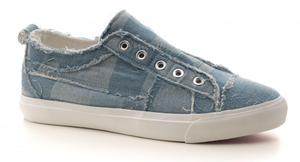 Corkys Denim Patches Babalu 
LOVE, LOVE, LOVE my new Babalu - Denim Patches Slip-ons!!
Super comfortable shoes and ridiculously cute!! Instantly one of my summer faves!! Great sale price as well!!
We are so glad you like them! The Corky's are sooo comfortable for SURE!!! Sadly, we just didn't sell enough shoes to keep stocking them, so ALL our shoes are on MAJOR discounts plus if ya buy any denim you get an additional $5 off until stock is gone!!!