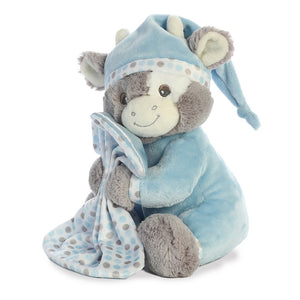 Trying to get your little one to sleep, or know someone who is having sleeping troubles with their newborn? Then this is just what you need. This brilliant little Sleepytime Cow sings "Twinkle Twinkle Little Star" when pressed, that can be just what you need to make a comfortable and cool environment for your little one to snooze off in. The ideal choice of program if you are looking to get a child to sleep but have run out of ideas!

10 inches in size.
High quality materials make for a soft and fluffy touch.
Quality materials for a soft cuddling experience.
Cute face that will steal your heart.
Press Musicals.